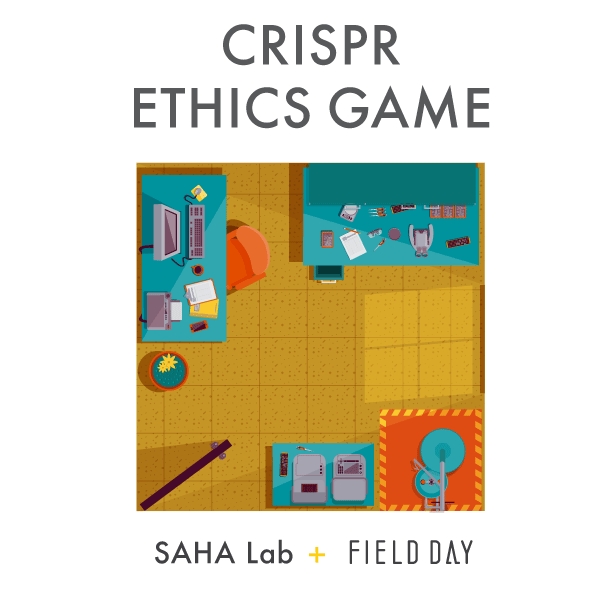 Audience
The game is geared toward the high school level, but will accommodate players from middle-school to adult. The ideal player will encounter the game in a classroom or educational setting where discussions about DNA and genetics can take place.
The secondary audience is made of adults who hear about the game via news channels such as WIRED, The New York Times, or RadioLab. Here, the game is situated within a larger article or video production of an organization that has expertise in facilitating public science discussion.
Process
Our team of designers worked closely with the game developers and the CRISPR researchers to determine what would be technically feasible, engaging for users, and scientifically plausible. We iterated on game scenarios that would be both exciting from an entertainment standpoint, but also challenge the player to think about the ethical ramifications of their actions. The player would be forced to consider both short and long term impacts — both positive and negative — of specific applications of gene editing technology.
Challenge
To educate the public about CRISPR gene editing, Saha Lab at the Wisconsin Institute for Discovery is creating a game with Field Day Lab. In this game, the player takes on the role of the lead scientist in a CRISPR lab in the near future. The player's decisions demonstrate the broad-reaching impacts of gene editing technology. Gameplay is designed to put the player in increasingly complicated scenarios where their choices make an impact beyond the lab.
The primary purpose of this game is to allow students to explore the ethical ramifications of gene editing. The player will also observe how CRISPR gene editing technology works.
After visiting the CRISPR lab, and brainstorming plenty of off-the-wall gene editing scenarios, we arrived at a collection of possible gameplay scenarios that could form a story arc that would be both believable and engaging throughout. One of the compelling aspects of this game is that the feedback the user receives includes not only the immediate effects of their genetic engineering — they also need to deal with the public reaction to their research through media, social media, and if things go badly, with threats to their lab's safety and funding, as they make increasingly difficult decisions.
This is a game that allowed me to draw on my training as a philosopher and a creative writer and enlisted my skills as a designer and my interests in technology and ethics.
Role
I developed story and dialogue for the game, researched and wrote scenarios, worked with game designers to develop mechanics and story arc, and worked closely with UX designers to develop an engaging gameplay experience. I also had the opportunity to consult directly with CRISPR researchers to guarantee that the major plot points would be scientifically feasible.
Status
The CRISPR game acquired further grant funding due in part to the design package I contributed to, and is now in development.